Skip to Content
No Cost Intraoral Scanner Program
Go Digital With Our No-Cost Intraoral Scanner Program
Dental technology is continually advancing. If you're still using syringe materials to create impressions, but have been thinking about going digital, now may be the time to do so. At Global Dental Solutions, LLC, we offer a no-cost intraoral scanner program that gives dentist offices the technology they need to improve patient outcomes while helping to save time and money.  Regardless of where in the country you're located, you can utilize our program. We've partnered with industry leader, Ivoclar, and software provider, Cayster, to bring this exciting program to your office. Learn more about the advantages of our no-cost intraoral scanner program, and get started today!
Discover the Benefits of Your New Intraoral Scanner
Now more than ever, providing the best possible experience for your patients is essential. We've made it easier than ever to help your patients achieve their dental care goals by offering a no-cost IOS program. We'll provide you with the training, software, and equipment to bring your office to the cutting edge of dental innovation. We've partnered with Ivoclar and Cayster to offer this exciting opportunity. Our program allows you to create digital impressions of your patients' oral environment for restorative, cosmetic, and general dentistry treatments. Discover why patients prefer digital imagining technology over traditional physical impressions:
Improve Patient Comfort
Save A shipping Day, Which Improves Turnaround Times
No Need For Courier Pickups
Eliminate Impression Material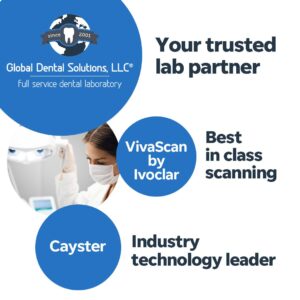 Learn More About Our Intraoral Scanner Program
Global Dental Solutions, LLC has teamed with two of the industry's leaders to help provide you with the best possible patient care. This partnership has enabled us to assist dentists nationwide in improving their practice by reducing turnaround times, lowering costs, and improving patient satisfaction. Our all-in-one technology platform gives dental professionals the equipment and training they need to become their local leaders for restorative, cosmetic, and general dentistry. Learn more about our partnerships:
Ivoclar – For over 100 years, Ivoclar has developed innovative and effective dental technology, and Vivascan is no exception. The Vivascan is a stand-alone Intra-oral Scanner for taking digital impressions. Its compact and lightweight design allows it to be integrated seamlessly into your office. Once you are trained, it transforms the time-consuming treatment of creating impressions into a simple task.
Cayster – Cayster helps you maximize dental technology by offering seamless software integration to enhance user experience. Their complete chair-side solutions include scanning, Rx, billing, and real-time collaboration tools. You'll also have exclusive access to their "live look" scanning feature.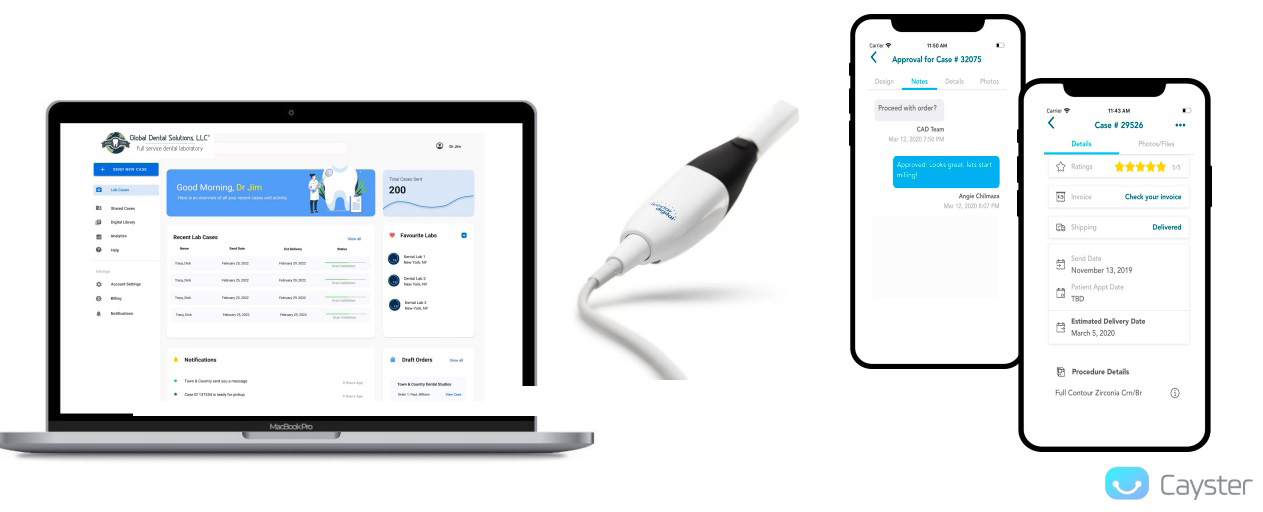 Participate in Our No Cost Intraoral Scanner Program
We're here to assist you if you're ready to upgrade your dental facility to provide a better patient experience. Once enrolled, we'll deliver the scanner and necessary accessories to your office. No cost means there's no capital investment necessary to receive the scanner. We offer a three-month introduction offer, with no minimum case volume required. There's no pressure, and you'll be able to learn at your team's pace. After the three-month trial ends, $1k per month in digital casework must be submitted through the scanner. Cayster provides ongoing support to ensure your team has the skills and resources necessary for success. Our program includes the following:
On-Site and Virtual Training
100-Day Success Program
On-Demand Support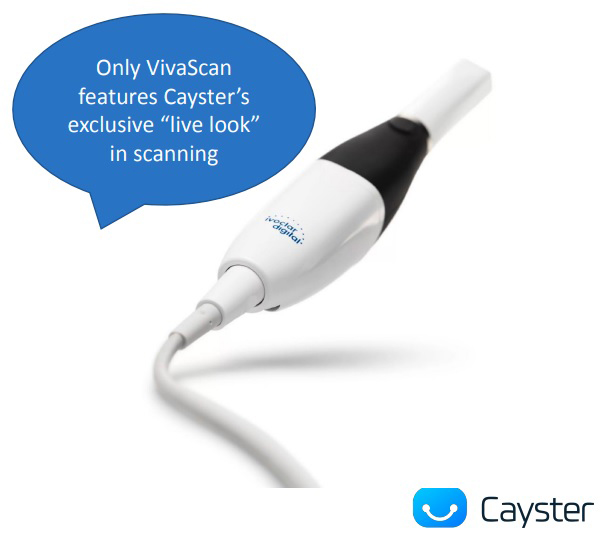 Our Digital Dentistry Technology Improves Patient Outcomes
Global Dental Solutions, LLC serves dentist offices nationwide, in the Virgin Islands, and the Bahamas by offering a no-cost intraoral scanner program and a range of restorative products that you'd expect from a full service laboratory, so our Doctors can deliver exceptional care to their patients. Our unique program is designed to improve patient outcomes, while helping you save time and money. Industry leaders have developed the IOS and software, so you can feel confident you'll enjoy an intuitive, high-quality digital solution. You'll also receive pre-site installation set-up and ongoing training, so you can provide expert care to your patients. Learn more about our no-cost intraoral scanner program by contacting our team today.
Need Support? We Are Here For You!
Choose How You Want to Communicate!
Contact Cayster at:
On demand training videos
World-class clinical trainers available to come to your office

Contact us, Global Dental Solutions, your trusted laboratory partner at: