Skip to Content
Laboratory Outsource Services
Our Laboratory Outsource Services
Are you a laboratory with technician or material shortages? Are you a laboratory that desires to fabricate less in-house? You can lean on Global Dental Solutions, LLC to take care of your overflow. Our three most popular products manufactured for other laboratories are listed below. If you have other needs, please contact us.
Cast Partial Frameworks
TCS Partials (Both Unbreakable and KeradentTM available)
Process TCS Partials From Your Setup (Both Unbreakable and KeradentTM available)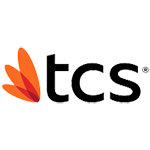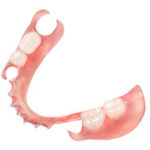 The tcs® Unbreakable RPDs are thin, flexible, lightweight, and extremely comfortable. Doctors and patients enjoy the unparalleled simplicity, comfort and aesthetics. Today, more and more dental practitioners are relying on nylon-based removable partial dentures for their patients. Acrylic denture bases are hard and they can break. In addition, partials that contain metal clasps can be unsightly, causing many patients to feel self-conscious about the way they look. Partials utilizing cast clasps are becoming increasingly undesirable to patients who want to limit the amount of metal in their mouth.
Cast Partial Frameworks
Standard CrCo alloy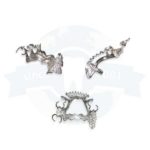 Our standard CrCo alloy is of only top quality. It is nickel, beryllium, iron, indium, and gallium free, with a Vicker's Hardness of 370 and a tensile strength of 960 MPa. The composition is 63.3% Co, 30% Cr, 5% Mo, 1% Si and less than 1% Mn, C, W, and N. The frameworks produced are fracture resistant due to the excellent physical properties, and the high modulus of elasticity allows for delicate, yet rigid design and construction. The reduced surface hardness allows for easier adjustment and polishing. You'll be extremely satisfied with the properties of our standard cast partial alloy.
Vitallium 2000 Alloy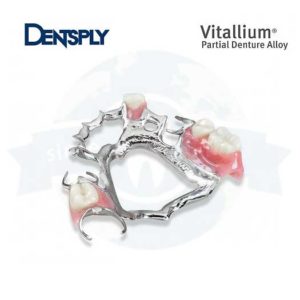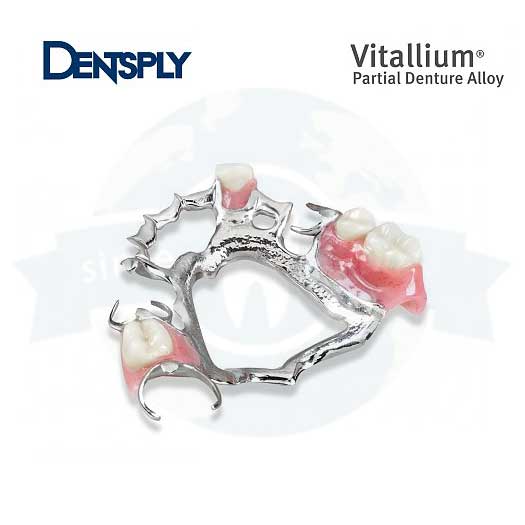 For our customers with a preference for Dentsply's Vitallium 2000 alloy, we are happy to provide its availability to you. Vitallium 2000 has been the undisputed premium CrCo partial denture alloy since it was introduced in 1997. Vitallium® 2000´s tensile strength of 855 MPa´s makes it extremely fracture resistant and with an elongation of 9%, the partials adjust like gold. If you have never previously prescribed Vitallium 2000, give it a try on your next premium partial removable case.