Skip to Content
Implant Retained Crowns and Bridges Made From Analog or Digital Impressions
Dental Implants are an increasingly popular alternative to removable partials. Many patients and doctors alike prefer this method, as it can replace edentulous dentition without the need to alter healthy, adjacent teeth. Though many people think of implants as a modern addition to dentistry, the Mayans are credited with the earliest known example of endosseous implants. While excavating Mayan burial sites in Honduras in 1931, archaeologists found a mandibular fragment dating to approximately 600 AD. This mandible, belonging to a woman in her twenties, had three tooth-shaped pieces of shell placed into the sockets of her missing lower incisors.
For 40 years, archaeologists believed the shells were placed after death, in a manner also observed in the ancient Egyptians. However, in 1970, a Brazilian professor named Amadeo Bobbio re-examined the mandible and, after taking a series of radiographs, noted compact bone formation around two of the implants. This discovery led to the conclusion that the implants were placed during the woman's life and not post-mortem. Clearly, as science and technology have advanced, so have the methods and materials of dental implants, the abutments, and their restorative crown or bridge. Global Dental Solutions is proud to be one of the nation's top providers of dental implant restorations. We offer a full selection of implant options to suit the needs of your patients. Choose from patient-specific custom-milled abutments or stock abutments, or screw-retained, which can be found on our Screw Retained Crown and Bridge & Full Arch page.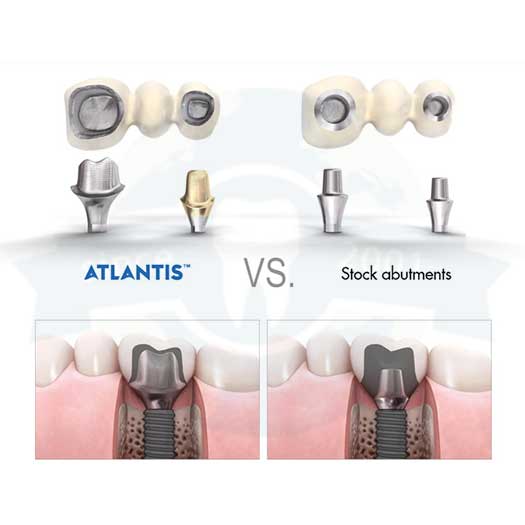 Patient Specific custom milled abutments
Our custom milled abutments are available for all major implant systems, including, but not limited to, Dentsply, Hiossen, Nobel Biocare, Straumann, and Zimmer Biomet. We can also accommodate all 3rd party manufacturers. Our custom milled abutments are digitally designed with the ideal buccal-lingual, mesial-distal, and cervical-incisal dimensions based on the surrounding dentition, tissue, and opposing occlusion. It enables patient-specific solutions for single, multiple, and full arch restorations. If the clinician desires a specific margin location, we can accommodate any such request. For users of intra-oral scanners, we can accept scan files utilizing any brand scanbody from Nobel Biocare to Dess and any other brand on the market.
Please see the Atlantis image at left, as an example of custom milled vs stock abutments. Custom milled abutments more naturally replicate the shape of a prepared tooth, providing a better structure on which the crown or bridge restoration will be fabricated. This achieves a more natural, esthetic result.
Custom milled abutments are available in titanium, gold-shaded titanium, or zirconia. Our zirconia milled abutments are affixed to OEM or OEM-spec titanium bases. We do not utilize zirconia interfaces.

Your Destination for ZimVie Dental Expertise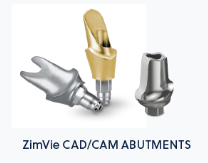 ZimVie Encode abutments are excellent for a less-invasive implant because the healing abutment does not need to be removed and allows for preserving the most natural tissue possible. Conventional impression-taking involves the need for repeated dis/re-connections of healing abutments and components during the healing stage. Based on histological observations from a pre-clinical study, these repeated dis/re-connections compromise the mucosal connective tissue attachment to titanium abutments. The Encode design eliminates the need for an impression coping or scanbody and therefore reduces abutment swapping to preserve the peri-abutment mucosal sulcus interface. There is only one dis/re-connection required, which is at the time the final custom abutment is installed. The abutments are available in titanium and gold-colored titanium.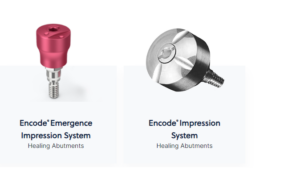 ZimVie Encode healing abutments eliminate the need for an impression coping or scanbody. No implant-level impression is required from the dental office, resulting in a simpler and quicker process that minimizes chair time for your patients. The clinician needs only to take a direct impression of the healing abutment, or an Intraoral scan of the healing abutment. Unique markings on the healing abutment provide the necessary information regarding implant placement
Stock Abutments
When implant placement allows, and the Doctor instructs for it, we can fabricate any implant case using stock abutments. We have experience with most brands available on the market. Please call with any specific questions related to your next implant case.

Tissue Shaded Porcelain Cervical and Embrasures
Does your patient have tissue recession and the restoration's gum line is more apical than the adjacent or contralateral? Is the implant exposed and you need to cover the metal exposure? Is the patient missing embrasure tissue? No problem! We can use tissue shaded porcelain to create the appearance of an ideal gumline or embrasure tissue. Provide us the desired tissue shade, either from your gum shade guide of choice, or the Ivoclar Gingiva shade guide, and we'll take it from there!
Etiology, Management, and Prevention of Loose Implant Abutment Screws
Abutment-screw loosening has been shown to be the most common dental implant prosthetic complication. Read the article at right for more information about the causes and prevention, as published February 22, 2018, by Dr. Randolph R. Resnik in Dentistry Today®.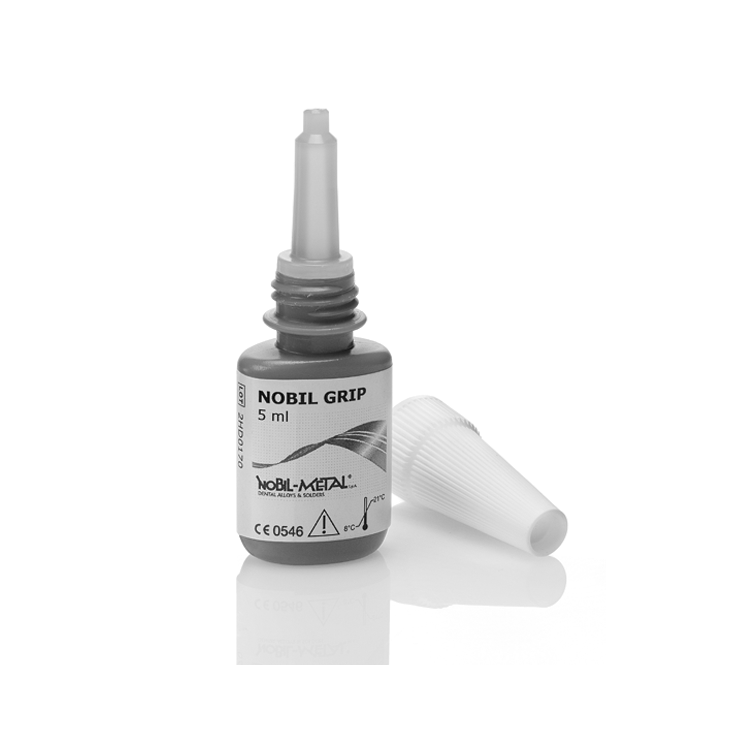 We recommend Nobil Grip, available from Preat Corporation, to help prevent the loosening of screws for implant and  attachment cases. You can purchase Nobil Grip by clicking the following link: https://preat.com/product/nobil-grip/