Global Dental Solutions
We welcome your call and look forward to serving your needs. If you are a dentist, or calling on behalf of a dentist, and wish to send us an email, please complete the form below and we will reply promptly. If you prefer to contact us by phone, we are very happy to receive your call; please see the below information.
If you are a patient, we cannot provide you with pricing information and we cannot directly make repairs to your existing appliances. Please contact your local dentist for assistance.
Printable RX form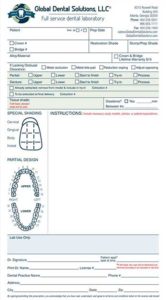 We're pleased that you've decided to allow us to earn your business. On this page, you'll find everything you need to get started. Fill out the Doctor Preference Profile so we can learn exactly how you want us to fabricate your cases, our scheduling calendar, and other tools to start our partnership. To be notified by email each time a case ships to you, please complete our Email Address Request Form. You can also receive a free, pre-paid FedEx shipping label by calling us at (404) 256-0501.
Download the full PDF
Doctor Preference Profile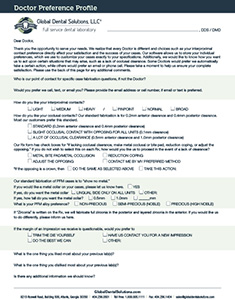 Each clinician we serve is unique and has his/her own ideas of what best suits their needs. Choices such as broad or pinpoint interproximal contacts directly impact the successful seating of the prescribed restorations. As such, we request you fill out the Doctor Preference Profile so we can customize each restoration to the preferences which you desire. Our software allows us to retain your individual preferences and access them throughout the fabrication of each restoration.
Download the full PDF